Geographic Technologies Group, Inc. (GTG) is one of the country's leading full-service local government GIS consulting companies. GTG's corporate headquarters is located in North Carolina, with regional offices in Florida and Texas. GTG has secured state, national, and international awards for software solutions and consulting services. Founded in 1997, GTG celebrates more than two decades of growth and success. Built on its tradition of deploying the very best GIS solutions for local government, GTG now has over 700 clients nationwide. A corporate culture of quality, understanding government operations, and commitment to our clients allows GTG to continue to build an outstanding GIS portfolio.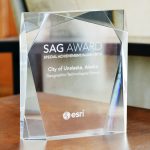 Esri's 2017 Best Citizen Engagement Award
Esri's 2016 Special Achievement in GIS Award
Esri's 2012 Special Achievement in GIS Award
Esri's 2011 International Award for Mobile Applications
An Esri Business Partner of the Year
URISA and American City and County Excellence Award in GIS
URISA Exemplary Systems in Government Award
Herb Stout Award for Exemplary Use of GIS Technology in Local Government
Client Spotlight:
Campbell County, Wyoming
Beginning with a 4 year phased GIS Implementation Plan in 2004, Campbell County GIS has had a long and fruitful relationship with GTG for over twelve years.
Projects Completed: The projects accomplished over that time include a complete county road inventory and address point collection, inventories of park infrastructure and amenities for 21 county parks, and infrastructure for county roads to include culverts, bridges, cattle guards and signs.  There have also been several custom tools built for the county including an analysis tool for the county Assessor to overlay soil data with aerial photography to assess agricultural land values, and a custom mobile map application for the Sheriff's department.  Collaborative efforts between GTG and the Campbell County GIS have led to projects like the 311GIS.
Client Background: Cathy Raney | After graduating from Texas A & M University with a degree in Environmental Design, Cathy started as a draftsman with the City of College Station Public Utilities Department in 1991. When the city chose Esri as their GIS software provider, Cathy transitioned into a GIS technician position. Seven years later she accepted a position with Campbell County as their GIS Coordinator. And with the help of the professional and supportive staff at GTG, she has been building an enterprise GIS for the county ever since.
The City has identified and utilized technology to improve its business processes, infrastructure, services, and decision-making.

The City of Unalaska, Alaska focuses their enterprise GIS solution on infrastructure and asset management, including electric, water, wastewater and stormwater systems, and parcel management.

California Town Implements GIS.